NOTE NEW MAILING ADDRESS:
P.O. Box 4151 Huntsville, Alabama 35815-4151
President Pam Fleming 256-710-0968 | [email protected]
Established in 1988 and recognized as a tax-exempt organization under Section 501(c)(3) of the Internal Revenue Code, the mission of the Alabama Kiwanis Foundation is to further the ideals, themes, and objectives of Kiwanis in the Alabama District. The Foundation accomplishes its mission by securing funds, bequests, and other suitable contributions and expending those funds in support of Kiwanis clubs, Service Leadership Programs, and at-risk children in the Alabama District.

---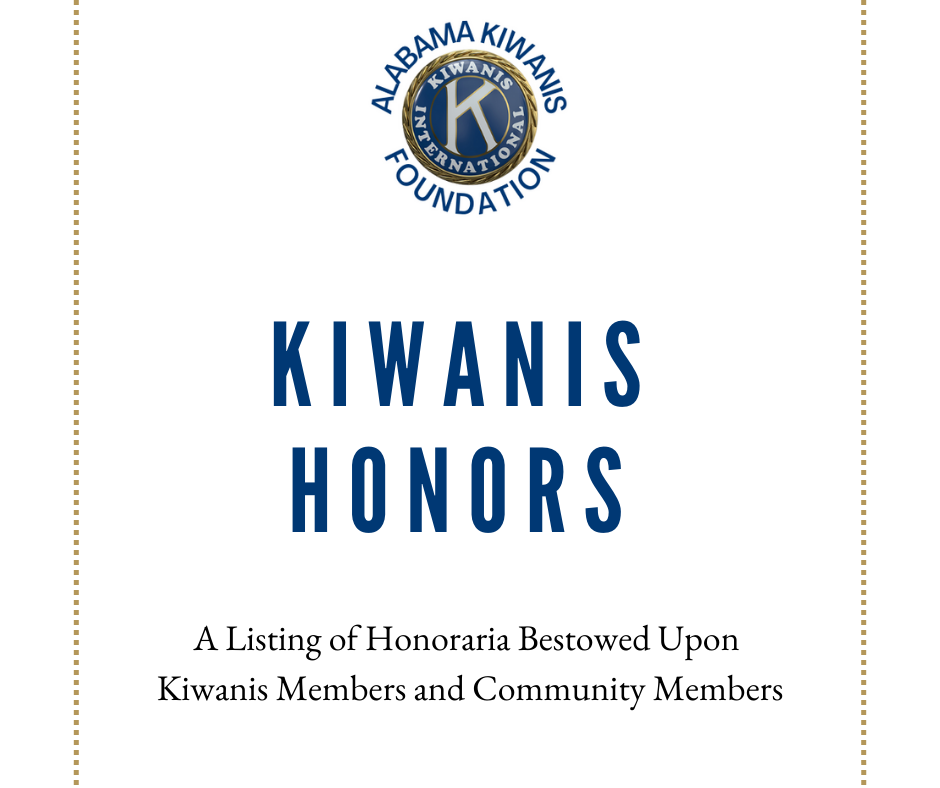 Click Here for a listing of all awards given throughout the years.
---
Alabama Spelling Bee
The Alabama Kiwanis Foundation is proud to be the official sponsor of the Alabama Spelling Bee, the Alabama affiliate of the Scripps National Spelling Bee. Please visit those links for more information on how your school and students can find out more and enroll to participate. Huntsville Kiwanis member Susan McDougal serves as the Executive Director for the Alabama Spelling Bee and would love to share with you about this amazing opportunity for Alabama students to shine.
Club Matching Grants
The Alabama Kiwanis Foundation's Matching Grant Program was established to increase the impact that clubs have on their local communities by matching funds raised for worthwhile projects. Click Here for more information.
Pass-Through Donations
The Foundation defines a 'Pass-Through Donation' as a donation to a Kiwanis Club in the Alabama District which passes through the Foundation for suitable purposes. Click Here for more information.
Scholarships
Annually, the Foundation provides funding for college scholarships, in accordance with its approved budget, to worthy recipients in Key Club and Circle K, as well as deserving students helped by participation in JDRIF.
Jean Dean Courage Award
The Jean Dean Courage Award is presented annually to a deserving Kiwanis Family member (Kiwanis, Circle K, or Key Club) who has faced significant challenges along life's way and has demonstrated their courage by continuing to provide service to others.
Sources of Funding
Individual Donations
Individual Kiwanians are encouraged to include a donation to the Foundation as a part of their charitable giving each year. As a 501(c)(3) organization, all donations to the Foundation are tax deductible. Click Here for an individual donation form.
Annual Club Gift Campaign
The Annual Gift Campaign is the largest source of funding for the Foundation each year. Annually, each club in the Alabama District is encouraged to include a gift to the Foundation in their service budget. All club gifts in any amount are welcomed and very beneficial. Beginning in the administrative year 2018-19, those clubs gifting an amount equal to $10 per member, recorded with Kiwanis International as of 1 October of the administrative year in which the gift is received, shall be recognized with a distinctive banner patch and an annual tab each administrative year thereafter when the gifted amount continues at the level of $10 per member or higher. Each check should indicate that it is an Annual Club Gift in the memo section for proper disposition.
J. Mercer Barnett Fellowship
Harvey Watson Future Fund
The Harvey Watson Future Fund is named for long-time Kiwanian and Past Alabama District Governor Harvey Watson who worked vigorously in support of Joe Dean as they established the Jean Dean RIF program. Harvey served as the RIF Advisory Board Chair until declining health resulted in his relinquishing the post. The Harvey Watson Future Fund recognizes contributions to the Foundation of $1,000 or more.
Joe Dean Legacy
The Joe Dean Legacy, named for Past Governor of the Alabama District, Joe Dean who founded Jean Dean RIF, recognizes individuals who have named the Foundation in their estate plans. Membership is offered to individuals who have signified their intent to provide a planned gift of $5,000 or more or who make an outright gift of $5,000 or more. For more information Click Here.