---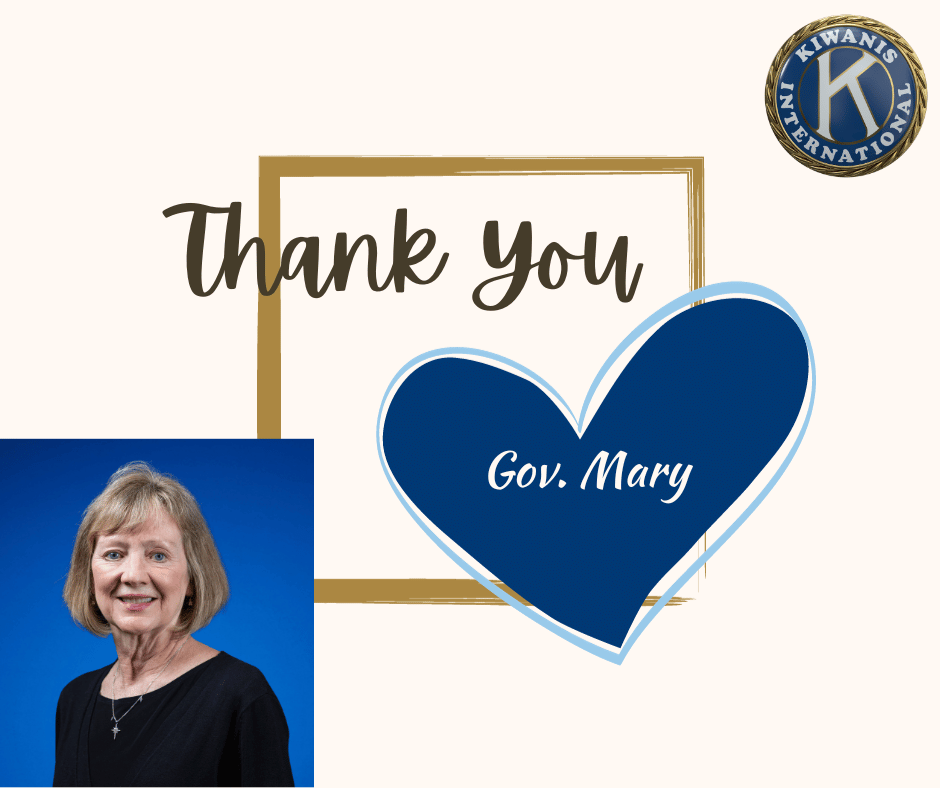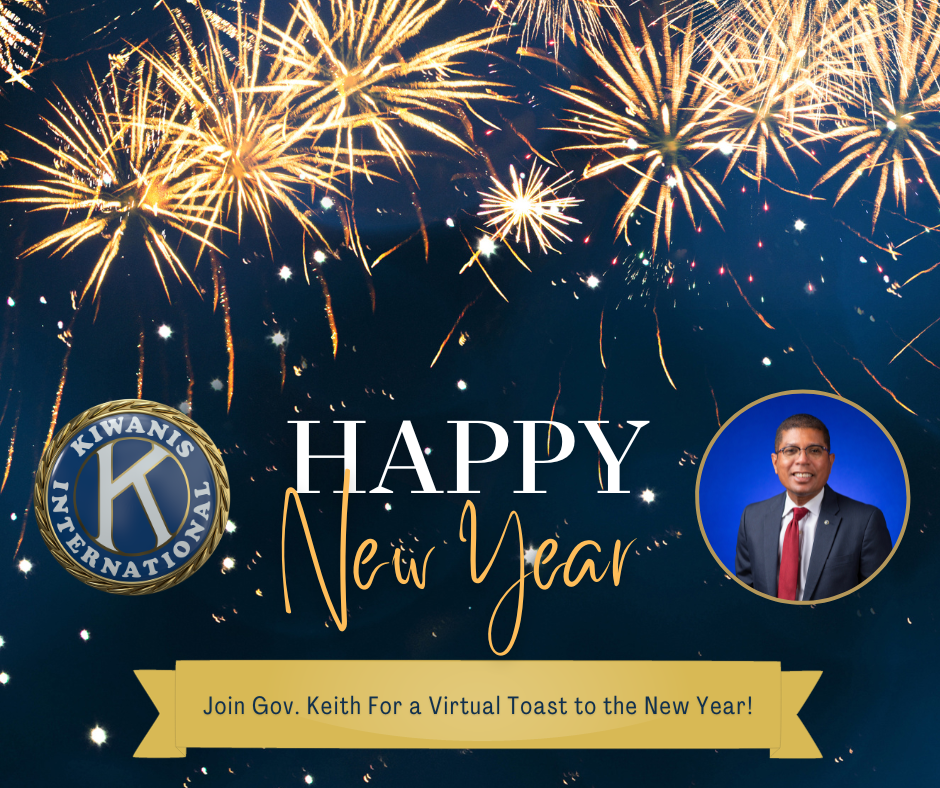 Join District Governor Keith McKendall for a toast to the New Kiwanis Year- Sunday, Oct. 1st at 7PM…. https://us06web.zoom.us/j/83542627231…
---

During this Centennial Year for our District, we want every club to partner with one of the 79 Challenged Schools in our State and Be The Difference! More Info….
---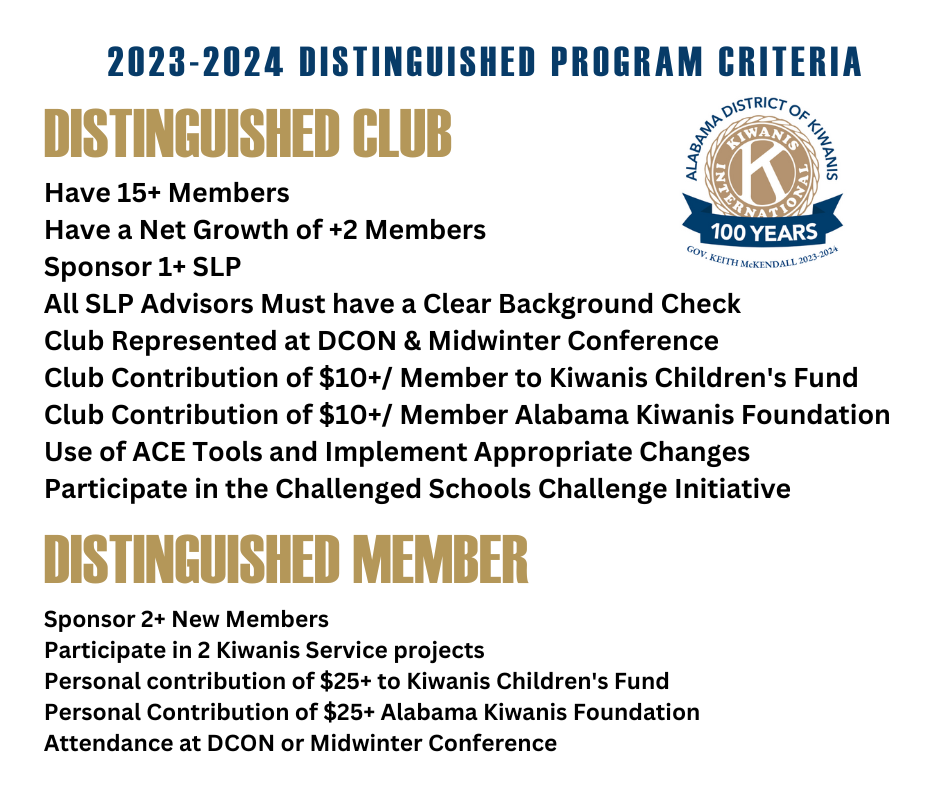 ---
DCON: If you weren't there…here's some of what you missed
ALABAMA SUPPORTING SCHOOLS INITIATIVE- Schools List
SLIDES FROM GENERATIONS PRESENTATION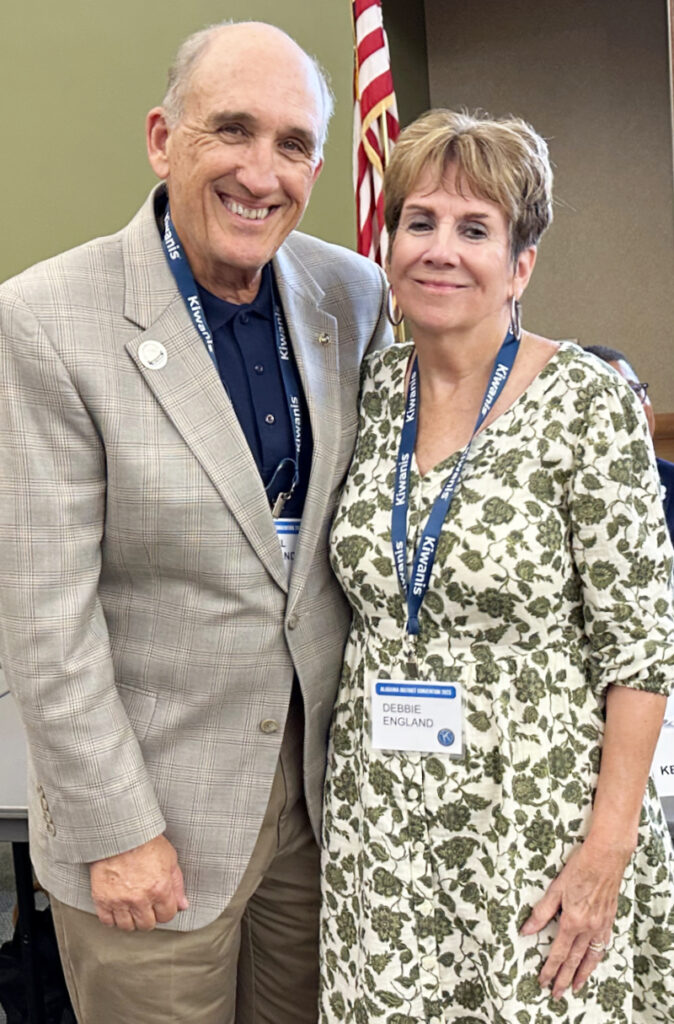 ---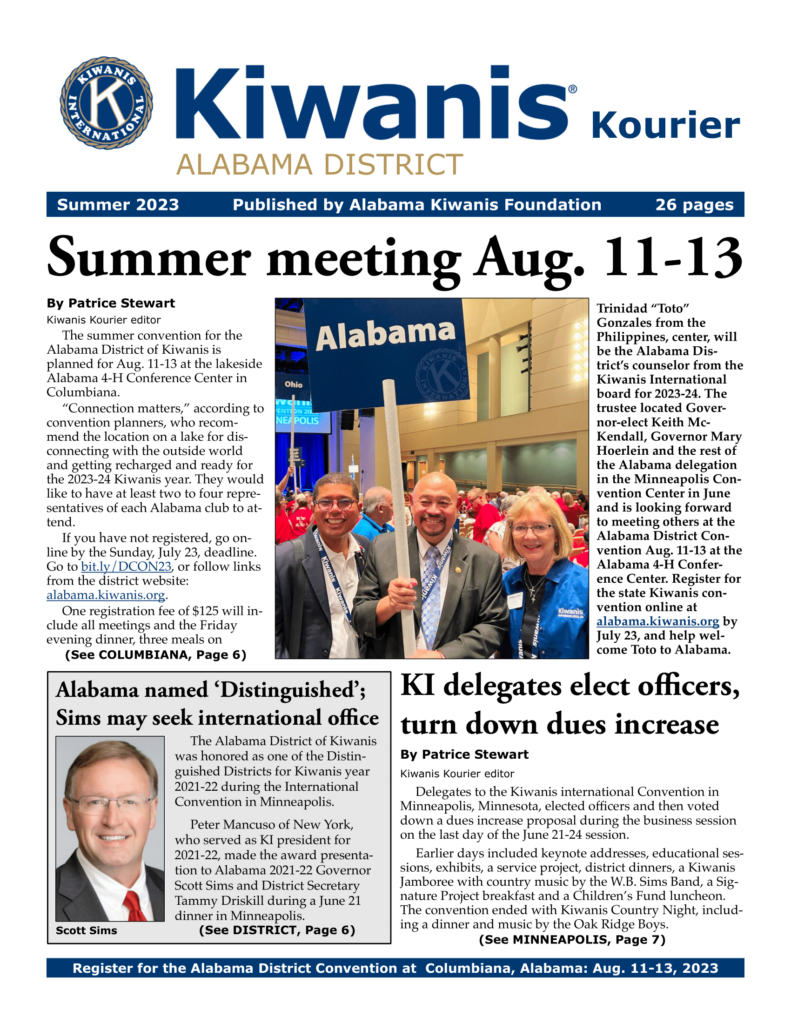 ---
WHAT IS KIWANIS?
Kiwanis International is a global community of clubs, members and partners dedicated to improving the lives of children one community at a time. Today, we stand with more than 550,000 members from K-Kids to Key Club to Kiwanis and many ages in between in 80 countries and geographic areas. Each community has different needs, and Kiwanis empowers members to pursue creative ways to serve the needs of children, such as fighting hunger, improving literacy and offering guidance.

Interested in learning more? Please contact us to join a local Kiwanis club.
---
THE KIWANIS MISSION
Kiwanis is a global organization of volunteers dedicated to improving the world one child and one community at a time.
THE KIWANIS VISION
Kiwanis will be a positive influence in communities worldwide — so that one day, all children will wake up in communities that believe in them, nurture them and provide the support they need to thrive.
KIWANIS SERVICE
Service is at the heart of every Kiwanis club, no matter where in the world it's located. Members stage approximately 150,000 service projects and raise nearly US$100 million every year for communities, families and projects. By working together, members achieve what one person cannot accomplish alone.
---
A FAMILY OF SERVANT LEADERS
Kiwanis clubs focus on changing the world by serving children, one child and one community at a time. To reach more people and have a greater service impact on their communities, many clubs sponsor a Kiwanis family club — K-Kids for primary school children; Builders Clubs for adolescents; Key Clubs for teens; Circle K clubs for university students and Aktion Clubs for adults living with disabilities.
---
WELCOME FROM DISTRICT GOVERNOR KEITH McKENDALL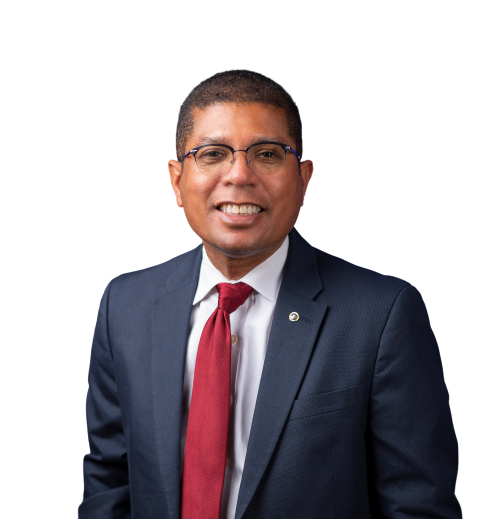 Welcome to a new year of service in the Alabama District of Kiwanis International. We have over 2700 members in our 77 clubs throughout Alabama, and when you add Circle K, Key Club, Builders Club, K-Kids and Aktion Club, our K-Family is truly making a difference one community and one child at a time.
If you are a Kiwanian, I want to thank you for your service and ask you to join me in a commitment to make this our best year ever as we seek to meet the many needs in our communities. Kids need Kiwanis in Alabama more than ever and together, we can and will increase our impact.
If you are not a Kiwanian, please join us. Fun, fellowship, new friends, and opportunities for leadership and service await you. We are happy to assist you in finding a club near your home or work. If Kiwanis is not in your community, let's explore the possibility of building a new club.
Kiwanis is a family, and we want you to be a part of our family. Come participate in pancake days, radio days, rodeos, fairs, food drives, reading initiatives, and a never-ending list of other creative projects. Bring your service project/fundraiser ideas with you.
If I can be of assistance to you on your Kiwanis journey, please reach out to me via email or call me at 205.500.1146.
---
---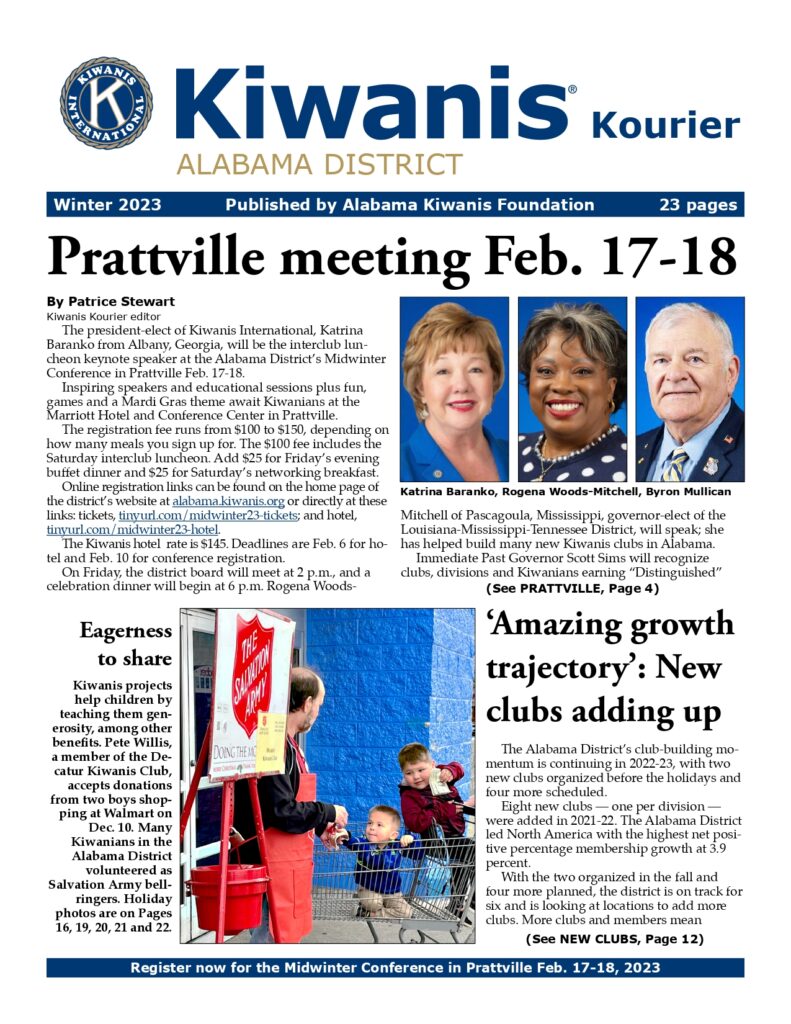 ---
CLUBS ALL OVER ALABAMA ARE MAKING A POSITIVE DIFFERENCE IN CHILDREN'S LIVES
Counties in WHITE below do not have a Kiwanis Club. I can only imagine the unmet needs that could be solved by 30+ caring volunteers. Want to fix that? Start a conversation today- [email protected]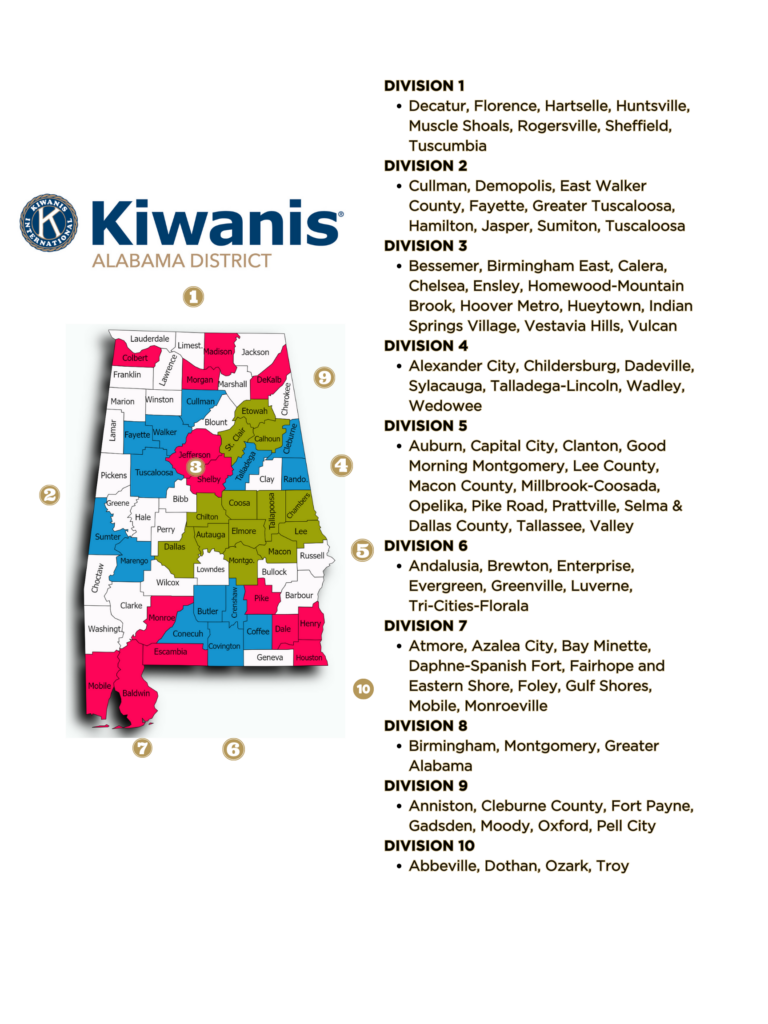 ---
NEW DISTRICT-WIDE INITIATIVE COMING OCTOBER 1st…. Stay Tuned